bazz. the perfect mix for today's bakers!
The ideal match between two leading Dutch manufacturers of bakery machines and raw materials resulting in seamlessly connected production systems for today's baker! Discover the power of collaboration:
BAKON Food Equipment and Royal Zeelandia are totally bazz.
Combining the best machines with the right products!
In order to obtain the best results it's essential that products will be processed with the best appropriate machines.
Great you're interested in our concept for bakers like you: Today bakers!
Especially for bakers who want to move forward, BAKON Food Equipment and Zeelandia joined forces: BAKON is good in developing, building and maintaining smart bakery machines, while Zeelandia is a preferred supplier of bakery ingredients.
Alone you go faster, but only together you will move forward
Based on the thought "Alone you go faster, but only together you will move forward" BAKON and Zeelandia joined forces by aligning the developing of their machines and bakery ingredients. This allows you, today's baker, to work with the ideal mix that bazz. has developed for you.
Start right away, top quality guaranteed
Our total concept get's you started right away and you can be sure of a perfect match between bakery ingredients, recipes and bakery machines. Add our 100% guarantee on quality and service and realize that bazz. is what you need to make a difference.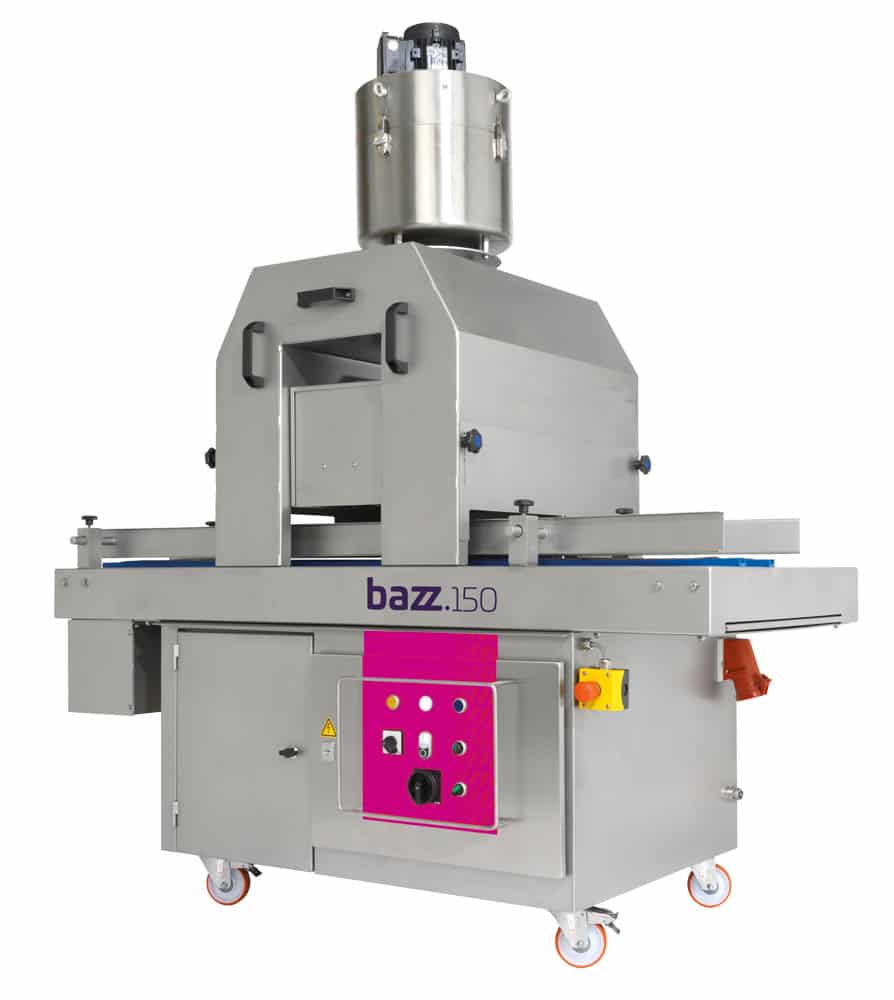 Exhaust unit with microfilter (Option)
1 of 7
Spray hood
4 – 6 air mix spray guns
2 of 7
Customized solutions:
Different positions of the spray guns are possible (e.g. 6 in a row, 2 rows of 3)
3 of 7
Automatical conveyor
Trays, etc. are transported by 2 chains. The motor is thermally protected.
4 of 7
Stepless adjustable guides
Trays, pans and moulds are supported by two adjustables guides.

5 of 7
Collecting trays
Sliding collecting trays are attached to each side of the conveyor belt.

6 of 7
Pressure tank
This container is constantly under pressure to feed the spray guns.

7 of 7
A good start is half the work! Discover the bazz. 150 and start your baking process with perfectly greased baking tins and trays.
Frank van Asten
Global Market Leader at Zeelandia
You are good at making tasty bread and pastry products and you naturally rely on equipment and raw materials. The combination of equipment, raw materials and service is therefore very important.

bazz. helps you with that. The cooperation between BAKON and Zeelandia guarantees the quality of the machines, the raw materials and the service.

Take the combination of bazz. greasing equipment and Zeelandia release agents, this ensures that your products come out and off the baking molds smoothly. And it is clear: perfectly discharged products sell better! You are also at the right place at bazz for applying tiger porridge. And for letting the croissants 'shine' nicely has bazz. the perfect solution. bazz. is happy to assist you!